Broaden your palate by trying our list of 10 weird food combinations that you probably have never heard of but should definitely try.
If you're looking for ways to liven up your meals and get out of your mainstream culinary rut, this list is for you.

Photo By WebVitamins.com
1. Ginger and Milk Chocolate
Chocolate pretty much goes with anything. It pairs well with both sweet and savory flavors, which is why you'll find it in everything from a spice rub for a pork loin to your favorite ice cream sundae. Ginger is just as versatile. You'll find it fresh in curries and powdered in desserts, like gingerbread.
The bitter notes in chocolate (even milk chocolate) nicely complement the slight peppery heat from the ginger. And that same peppery flavor highlights and provides an interesting contrast to the sweet creaminess of milk chocolate. Bitter, slightly acidic dark chocolate would probably be too harsh, but the almost caramel-like sweetness from the milk chocolate helps balance out the heat from the ginger.
Rather than trying this combination using fresh ginger or powdered ginger, why not start out with a milder middle ground? Candied ginger. And one way you can experience this particular flavor combination using candied ginger is trying Dagoba's Chai-flavored Organic chocolate bar. In addition to spices you'd find in a chai latte, this candy bar contains milk chocolate and chunks of candied ginger.

Photo By Amazon.com, Inc.
2. Chili Powder and Vanilla Ice Cream
Chili powder has been used in desserts before, but even then, it's usually mixed with chocolate and cinnamon. With vanilla ice cream, the bitterness of the chili powder seems to disappear. The heat and smokiness of the chili powder heighten the vanilla flavor and the overall sweetness of the ice cream. The taste is like vanilla set on fire, like putting hot sauce on it and getting all of the heat and none of the vinegary zing.
The easiest way to try this flavor pairing is to just top a scoop of vanilla bean ice cream with a few teaspoons of chili powder. Depending on how much ice cream you're using you may need to increase the amount of powder in order to really taste the combination.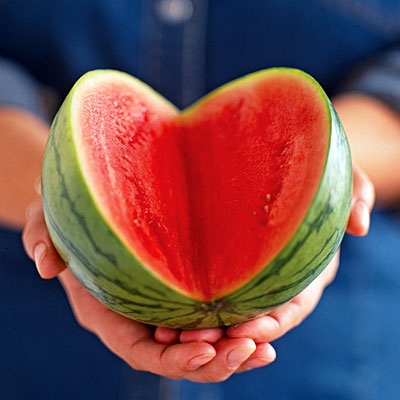 Photo By Sunset Publishing Corporation
3. Watermelon and Black Pepper
This flavor combination is often seen in salads, as well it should: it tastes like a particularly light yet incredibly flavorful vinaigrette. It's peppery, savory, sweet and it finishes with a slightly smoky, spicy kick. Its refreshing mouth feel is best paired with a hot summer day.
Recipe Suggestion: Bobby Flay's Jicama and Watermelon Salad
Photo By Palm Beach Media Group
4. Mango and Sriracha
It's fast becoming a popular flavor combination for cocktails. Whether you grab a drink at Momofuku's Ssam Bar or San Antonio's Cha-Chas restaurants, the sweet floral notes of ripe mangos pair well with the sweet heat of Sriracha chili sauce. Here's Cha-Cha's recipe for their Spicy Beijos (Kisses) cocktail, which features mango puree, Sriracha sauce, passion fruit and lime juice.
Recipe Suggestion: Cha-Cha's Spicy Beijos (Kisses) cocktail
Photo By Bergdorf Goodman
5. Jalapeno and Strawberries
The combination of the acidic and peppery notes from jalapenos with sweet strawberries has recently popped up in all sorts of recipes. Do a quick search online and you'll see this popular pairing in recipes for cocktails, salsas, salads and even ice cream. In fact, for those you who have an adventurous sweet tooth, we've got just the right recipe.
Recipe Suggestion: Atlanta Magazine's Strawberry Jalapeno Jam

Photo By iGourmet.com
6. Bacon and Pistachios
Don't let that delicate green color fool you. Combined with bacon, pistachios take on an intensely heavy meaty flavor and lend a sort of nuttiness to the bacon's smoky flavor. Whatever slight sweetness pistachios do have pretty much disppears in this combination. It just tastes like a particularly salty, smoky peanut butter. Though this combination has a savory meat-and-potatoes quality, there's a way to sweeten and class it up a bit. Here's an interesting appetizer recipe that features dates, bacon and pistachios.
Recipe Suggestion: Martha Stewart's Bacon-Wrapped Dates (Stuffed with Pistachios)

Photo By Mercusii Cafe Coffeeshop and Restaurant
7. Avocado and Coffee
There are a ton of blended drinks out there. But why not venture out of the mocha/strawberry/vanilla Starbucks standard and try something new? Why not travel to a different country via your blender and try something…Indonesian?
Es Alpukat is a coffee avocado milkshake from Indonesia. It combines the creamy richness of avocado with the sweetness of condensed milk and vanilla and the slight bitterness of coffee. And avocado milkshakes aren't totally out of the ordinary. Recently dubbed a superfood, avocados have also made their way into sandwiches, fries and ice cream. And many Taiwanese bakeries and coffee shops right here in America have avocado shakes on their menus.
Recipe Suggestion: Epicurious' Es Alpukat

Photo By Barry Farm, Amazon.com, Inc.
8. Strawberries and Fava Beans
A nice Chianti isn't the only thing that goes well with fava beans. Strawberries do too. The most popular form in which this pairing is featured is in a strawberry and fava bean salad with Pecorino. The sweetness and slight acidity of the strawberries is a nice contrast to the savory fava beans. Try this recipe from the California Strawberry Commission that was featured in Readers' Digest Canada.
Recipe Suggestion: Strawberry and Fava Bean Salad with Pecorino

Photo By WebMD, LLC.
9. Mushrooms and Apricots
When it comes to hearty meals, a sweet and savory combination can't be beat. There's something totally satisfying about combining the two flavors. Peach-braised ribs. Pork tenderloin with a brown sugar and Sriracha rub. And now you can add mushrooms and apricots to that list. The sweetness of the apricots acts as fruity glaze for savory, meaty mushrooms. Try out this pair of flavors in this recipe for Mushroom, Apricot and Bacon Dressing (stuffing).
Recipe Suggestion: Smithfield's Mushroom, Apricot and Bacon Dressing

Photo By Health.com
10. Chocolate and Fried Onions
Everything tastes better fried, so if you're worried about trying chocolate and onions together for the first time, frying the onions first would be a good start. And cooking the onions would help to bring out its natural sweetness while reducing the intensity of its tear-jerker peppery kick.
Topping the fried onions with melted chocolate should only enhance the sweetness of the onions and the bitter tones and creaminess of the chocolate should help highlight the brightness of the onions. The peppery tones of the onions should help intensify the more savory side of the chocolate's flavor. Try this recipe for fried onion strings and then top a batch of it with melted chocolate.
Recipe Suggestion: Ree Drummond's Onion Strings with Chocolate Drizzle
Photo credits from first picture to last to WebVitamins, Amazon, Sunset Publishing, Palm Beach Media Group, Bergdorf Goodman, iGourmet, Mercussi Cafe Coffeeshop and Restaurant, Barry Farm, WebMD LLC  and Health.com
 http://www.pastemagazine.com/blogs/lists/2014/12/the-10-weirdest-food-pairings-you-just-have-to-try.html
The following two tabs change content below.
Bodega Life
In this section we explore the things that define Bodega Life. We bring you some of the best and brightest minds, sharing their knowledge and passion for the things they love. Sports, health, cars, finance and fashion are some of the lifestyle areas you'll discover. Enjoy!
Latest posts by Bodega Life (see all)